K-Pop superstar PSY had the best week ever. Early in the week, he showed up on Ellen to show Britney Spears his "Gangnam Style" dance and the single galloped into the US iTunes Top Ten . On Friday he welcomed in the weekend with a performance on the Today show and Saturday night he dropped some South Korean cheer on SNL . Watch both performances below .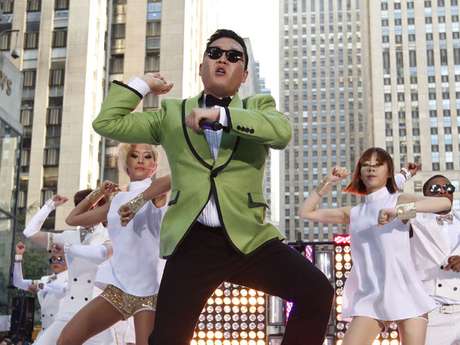 The bow-tie tuxedo wonder danced his horsey dance in Rockerfeller Center to the screams of hundreds of fans, and as one YouTube commenter pointed out, possibly 'the largest Asian turnout in the history of the Today show."
Check out as the camera pans along the singing masses, you'll catch suited up adorable PSY wannabes and certain TV show hosts who should leave the dancing to the professionals.
On the season premiere of SNL , the rapper (played by cast member Bobby Moynehan at first) came out to the push of a red button to show some dudes how the power of "Gangnam Style" can turn all kinds of frowns upside down. As their problems get worse, the more Gungnam Style things get. Take a look at who pops in at Turbo power! Watch the hilarious skit here.
Is "Gungnam Style" the secret to your happiness these days?