One of the best parts about No Doubt being reunited is that Gwen Stefani is all over magazines again. This time, the singer graces the cover of Marie Claire , where she shows off her tight abs and opens up about various subjects. Check it out.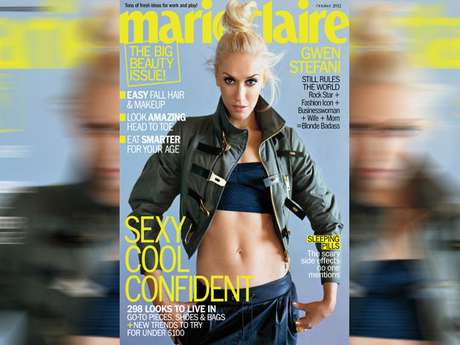 On rearing two high-energy boys just a few years apart in age: "From the moment they wake up, they start beating on each other. I never knew they would be so physical. They're just starting to play real well together, but with a lot of fighting. They do look out for each other – especially the little one, he really loves his older brother."

On having a third child: "I really, really, really wanted one about two years ago. And it didn't really work out. So… I feel good with what we've got. Everything works out how it should. You can't plan anything, right? You can try."

On what her 10 year anniversary with Gavin Rossdale represents: "A miracle… my biggest accomplishment is my marriage so far. Because it's hard, everyone knows it's hard. [Marriage] is something that I always wanted to do successfully. It was a dream of mine. I like the official-ness and the family-ness of it all, having the same name and making decisions together."

On her relationship with Gavin: "[Our relationship] is better than it's ever been. Like, we're learning about each other all the time. He's an amazing dad, he works so hard – I can hear him writing songs through the wall, and it is at a much quicker pace than me! He balances me out. And he – he never stops liking me, which is awesome! It makes me feel happy, that someone likes me as much as he does."
What do you think about Gwen's cover?