It's been a busy year for Other Lives . The Oklahoma five-piece have spent most of 2012 on the road supporting their critically-acclaimed (and Terra Music approved) sophomore album, Tamer Animals , headlining small venues, playing festivals and opening up arena shows for Radiohead . While in England, they took advantage of the creative air that seems to infinitely encapsule the place as prominently as its overcast skies to record the Mind the Gap EP, released this October. The four-song effort serves as the perfect bridge between LPs, showcasing the influence of traveling on the band's composing and yet it still recalls the haunting beautiful spirit of their last album. The end-product is an electronic-tinged output that features violin loops and a remix from Atoms for Peace (Radiohead's Thom Yorke, producer Joey Waronker). The year -- and Other Lives' world tour -- may be widing down but a new era begins as work on their full length follow-up is on the horizon. We caught up band member Jonathon Mooney via e-mail where the multi-instrumentalist talked to Terra about the band aging, England's influence on the EP and the awe-inspiring effect of playing Mexico for the first time.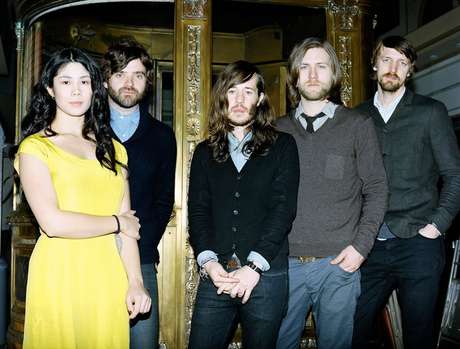 Other Lives just celebrated 10 years together, congratulations! Can you describe how you feel the band as evolved during this time and what you have taken away from the experience?
Thank you. The one thing I can say about the last 10 years is that we've never been content with where we were musically at any point in time, and that is what has kept us going. We've definitely evolved and grown but when I think about the ways in which we have, I think of how far we have to go.
Someone on Twitter said your music was the soundtrack during Hurricane Sandy, it's also great to wind down to after a long day. Your music generally has a calming and stabilizing quality in the midst of chaos. Do you agree?
Wow. I certainly won't disagree with that description. We did in fact try to create tension and chaos several times on the record through layering and dissonance in order to make the consonant parts have more of an effect.
In a previous interview, you mentioned that Tamer Animals felt like a failure because you wanted to take out the traditional instruments you had been using to record but ended up using them anyway. Is this something you're striving to accomplish for the next record?
Yes. We tend to work best with ideals and constraints while in the studio, and I'm certain we'll be even more rigid this time around.
How was it recording away from home and how do you feel it influenced the EP?
It's amazing how much the location influences the recording. It's always subtle and we tend to not notice until after the fact. This was definitely the case in England as well. I think the rain had something to do with it.
You mentioned on Twitter there's no plans to release "Dust Bowl II" why is that? Does this mean you're moving away from the era that inspired Tamer Animals for your next album?
Yes, we're definitely anxious to move on but it doesn't mean we've dismissed the song entirely. We've been performing it live a lot, and we feel it's one of those songs that is more appropriate in that medium.
Any details about the new material you'd like to share?
One thing we've been thinking a lot about is technique and timbre for the next record. To us it's just as important as the songs themselves.
We saw you at Bowery Ballroom and it was such a perfect venue for your music, it was somewhat surreal, how did it feel to play arena and stadium stages while you recently opened for Radiohead?
Playing with Radiohead was a great experience. It's hard to explain what it felt like. Honestly, I was just trying no to fuck up. I would say we probably feel a little more at home in a more intimate setting like the bowery but it's always nice to play in a different setting.
How was your experience in Mexico, playing for a Latin audience?
Unreal. The audience was so enthusiastic and genuine. It was also by far the biggest audience we've ever played in front of, and probably ever will.