For some reason only known to the Internet gods, rap maidens and former buds Azealia Banks and Angel Haze got into a tweet fight that resulted in dis tracks from each MC to her respective rival.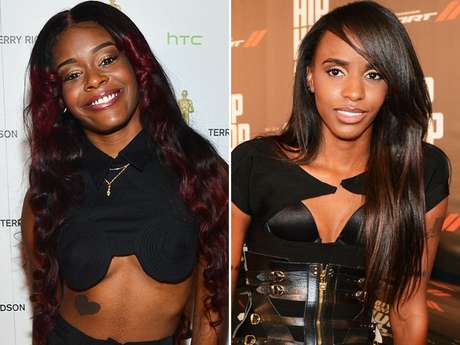 Angel Haze shot at Banks with "On the Edge" where she exclaims: "Bitch, I'm from the 313/ Whip the f**kin' meat cleaver out like who want beef/ F**k you gonna do with this Diplo flow/ Dissed you on your own s**t, you should dip low ho."
Banks reacted to the track claiming her lyrics were stale. "LOL... seriously... how long have you had these bars written tho? @ANGELHAZE ...," she posted and added: "I'm bout to rip this bitch's head off and toss it in the cauldron."
Today Banks dropped her own diss track "No Problems" today directly responding to her ex friend's track. Some of the personal jibes she spits include, "Who her? I'm a true star/ This bitch brawl got blue balls/ Hard pressed cos I took off/ I'm form fresh from New York." and "You mad bitch, you average," followed by the hook: "No problems, no problems, you bitches don't want no problems."
At first, we were more into Banks's Machinedrum produced track than Angel Haze's diss mainly because the beat's hotter and Haze talks too much and raps too little but now that Angel Haze stepped it up with her second diss track "Shut the F**k Up" spitting gems like "You a Internet goon, a Twitter personality." and "How much Twitter beef does it take to wanna make you get / into the studio and come with a different flow / not try to recreate '212' the only shit you know." Oh snap!
We're pretty sure this whole thing is a publicity stunt but entertaining nonetheless! We wonder what Azealia will say next! Listen to all tracks below.
Which diss track tickles your fancy the most?